Squad C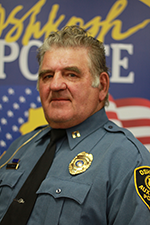 Joe Youngbauer
Captain - Squad C
Oshkosh Auxiliary Police
Squad C is the Vehicle and Speed Awareness Squad of the Oshkosh Auxiliary Police.
My Staff and I are responsible to insure all of our vehicles and road equipment be maintained ready to perform at a moment's notice.
The specific assets we maintain are:
1 GMC Cargo Van
2 Ford Crown Victoria squad cars
1 Command Post trailer
2 Speed Awareness/Message boards
Monthly inspections insure all our vehicle are maintained in a ready state.
We also manage the speed awareness program. We use portable speed/message boards that mount on utility poles throughout the city.
Ron O'Bright
Lieutenant - Squad C
Oshkosh Auxiliary Police
Jeff Winkler
Sergeant - Squad C
Oshkosh Auxiliary Police
Auxiliary Officers Assigned to Squad C:
Yang, Maxine
Lulloff, Armanda
Schmidt, Thomas
Stegner, Stephanie
Steele, Marti
Edwards, Dennis
Yoder, Lance